Texen launches a collection of refillable palettes and matching suede pouches
The Texen Group is committed to offering brands innovative and responsible solutions that promote the ecological transition of packaging. Texen Beauty Partners is adding a range of refillable cosmetic palettes to its Be Green collection, along with a range of customizable suede pouches.
Through these developments, Texen is targeting key areas of the circular economy: choosing bio-based materials and a new approach to product life.
Durable box
Designed for pressed powders for eye shadows or other make-up, Texen Beauty Partners' new collection consists of 3 palette models available in standard sizes. The design is based on a system of magnetic pans into which removable formula refills are inserted. The pans can be easily pulled out of their casing thanks to a tiny perforation on the back of the box, through which a thin metal rod is simply inserted.
Brands can use this feature for various consumption modes. The refillable and customizable palette could be sold in a box accompanied by several powder refills (blush, bronzer, foundation). This product is also a perfect candidate for mix and match: consumers buy their empty palette and fill it themselves, choosing their favourite colours, whether instore or online.
Raw materials
This collection can be made in virgin or recycled materials, with the emphasis on organic PET derived from sugar cane waste. Organic PET is made up of recycled waste (20%) and PET virgin plastic (80%), and therefore significantly reduces the use of fossil fuels. In addition, it overcomes some of the technical constraints associated with the transformation phase and more closely respects the rendering of delicate colours such as white (compared to RPET-type recycled materials).
Great impression
This palette model is suitable for several types of printing: silk-screen printing, hot stamping and digital printing, an ideal technique for giving relief to the decor and bringing out precise details.
This pack embraces a wealth of design ideas. In addition to the printed decoration on the outside, the mirror and pressed powders can also be customized (logo, motif, etc.).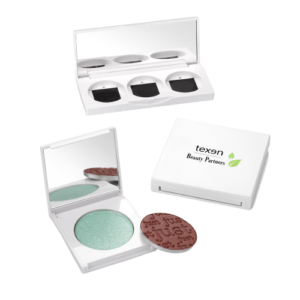 The bonus that packs a punch
Texen Beauty Partners has also designed a collection of suede pouches to add value to its make-up, palette, compact, lipstick and applicator offering. These pouches are made in RPET and available in velvet, cotton weave or flannel, in all colours, for exclusive hot stamping decoration.